Longarm
At The Copper Needle, we live and breathe longarm quilting!  Innova is our longarm machine of choice and we proudly represent them as an Arizona Innova dealer.  We are happy to help you with any of your longarm quilting needs and offer a wide variety of classes in our studio and supplies specific to the art of longarm quilting.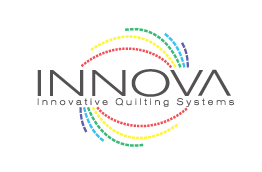 Here are some of the reasons that Innova is our longarm choice:
Industrial engineering and expertise is evident in the construction of the Innova Longarm Quilting Machine.
The Innova boasts many features which include most importantly the fastest motor, lowest maintenance, most reliable stitch quality, and best customer service available today in the Longarm quilting community. Other class leading standard features include both front and rear handle bars with start/stop controls, along with half stitch button and a selectable needle stop (up/dn) position. The Innova quilting machine has a rotary thread tensioner, and adjustable spring loaded hopping foot. Innova's exclusive "Patented" spring loaded hopping foot is crucial in its design.
Traditional hopping feet are rigidly mounted and do not adjust for varying thicknesses of quilt tops. The Innova spring loaded hopping foot automatically compensates for inconsistencies in your fiber fill or for extra heavy seam allowances which minimizes thread breaks and skipping. The Innova comes standard with a laser and mechanical stylus, as well as a fabulous adjustable fluorescent work lamp which allows for incomparable visibility of your work surface. The ABM Innova is very lightweight, well balanced, and includes Pro-Glider composite non-marking wheels for effortless and complete control of the sewhead reducing user fatigue and increasing design accuracy. Innova comes standard with a style "M" large capacity hook for fewer bobbin changes and includes extra needles, bobbins, a tool kit, dust cover, and stand alone bobbin winder with auto shut o and speed control.
If you'd like more information on the Innova click on the link below
www.innovalongarmquilting.com
Machine Rental
Longarm rental services are available on our 22" Innova with lightning stitch. After completing a basic training class, you will receive your "driver's license" which will allow you to use the machine to complete your quilts on your own! Please contact us to schedule your first training class and reserve quilting time to work and play!
 You will need to provide your own top, batting, backing, and thread.
Batting and backing can be purchased at our shop!
Training classes
$100- Our four-hour rental training class will teach you: how to prepare and load your quilt onto the quilting frame, threading & tension, machine operation, and basic free motion quilting/ruler work. Once you have completed this class, you will be up and running.
Rental cost
Machine rental is priced at $15/hour. You must reserve your time slot ahead of time.
Longarm Quilting Services
We offer both computerized edge to edge and custom hand guided quilting services using our Innova longarm machines. As quilters, we understand the work and love that goes into your creations and it is our goal to Finish your quilts with care and quality. We also understand that you would like to receive your quilting in a timely manner and will have your edge to edge quilting finished within three weeks. Custom quilting may take up to two months depending on our schedule.
Edge to edge computerized quilting
 We price our computerized quilting per square inch. We charge .0175 per square inch. This cost includes a 40 weight thread and trimming (you can specify how you'd like your quilt trimmed). We carry a variety of batting types and wide backings for an additional charge.
To figure the cost of your quilting service measure the width and length of your quilt top in inches. Multiply the two measurements to get the square inch number then multiply the square inch amount by .0175 as shown in the example below:
Quilt top- 62" x 84" = 5,208 square inches     |       5,208 x .0175 = $91.14
Custom quilting
Gina Perkes will custom quilt your piece using a hand guided, stitch regulated Innova. She will help determine an appropriate custom design that will t the style and function of your quilt perfectly. She will meet with you to determine a unique quilting path and will work with your budget so that there are no surprises.
Custom quilting is priced per hour at $35 per hour. This price includes 40/50 wt. thread, if 100 wt. silk thread is desired, there will be an extra charge.
As a quilter, I understand the labor and love that goes into each piece. 
I understand that each quilt is unique and will use my skills and experience to help you to select the best quilting path and finish it beautifully. To ensure that your quilt will have the best possible end result, there are some steps that should be taken before handing it off to me for my part:
Quilt preparation checklist:
Loose threads are trimmed
Quilt is pressed and clean (free of animal hair)
Backing fabric is squared up
Backing fabric and batting are 3-4" larger than the quilt top on each side
If backing fabric is directional, indicate top of quilt and top of backing fabric
Borders have been attached to quilt using good technique Contact Us:
Email: ginaperkesdesigns@gmail.com
Phone: 928-363-4036
Address: 201 Suite B W. Main St.
Payson, AZ 85541
Store Hours:
Tuesday

-

Friday

 -
10:00 am - 4:00 pm
Saturday

 -
10:00 am - 3:00 pm